Pool Covers
Swimming pool covers play a very impoartant role some of these listed below:
Inhibit algae growth
Reduces filtration/pump time by upto 50%
Eliminates water evaporation by 98%
Reduces chemical consumption by upto 70%
Reduces energy consumption by upto 50%
Absorbs the suns energy
Reduces debris contamination
Saves money
On choosing a cover things to consider are safety, heat retention, ease of use and the overall appearance of the pool.
SOLAR COVERS
GeoBubble Technology scientifically designed to be more resistant to chemical and UV attack for longer than a traditional shape bubble.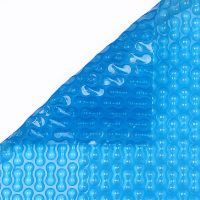 Blue with GeoBubble Technology
Follow the Aquaflex link for other solar cover options.
ROLLDECK COVERS
The Roldeck automatic pool cover is avaiable for domestic and commercial pools, indoor or outdoor and is versatile in the applications it offers.
They are the ultimate in :
Heat insulation.
Evaporation control.
Durability.
Aesthetic appearance.
The Roldeck cover is manufactured in interlocking sections similar to a venetian blind. Each section simulates the double glazing system, with 0.5" of interspace combining the highest degree of insulation with evaporation control.
DRIPOOL COVER
All Dripool covers are manufactured from hard wearing and durable polyester reinforced PVC and lives in a purpose built housing. Running in anodised, aluminium tracks, the covers are pulled by very strong, stainless steel cables to ensure strength and reliability. The installation of our beam assisted cantilever system, ensures that the ground cover housing is not only safe to jump and dive from, but is designed to be paved and pointed to look exactly the same as the other three sides of the pool, rendering it invisible.
SLATTED COVER
Slatted cover on deck level pool
Slatted cover on freeboard pool
Decking finish to slatted cover
Paving finish to slatted cover
FABRIC COVERS
WINTER COVER